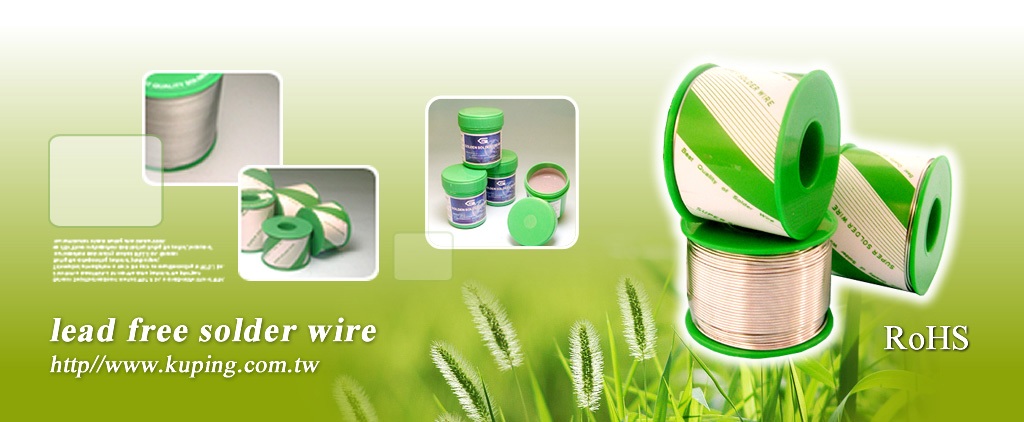 NO./Clean SMT Solder Cream

In meeting modern micro-pitch requirements in the industry, Ku Ping R&D Team developed and succeeded in the application of 0.15 mm Pitch. The brilliant technical ability makes it one of the best in the advanced world and Ku Ping is supplying solder paste of all kinds of alloy composition, viscosity and particle size and the products is widely applied in uses in the industry.
Features
Excellent soldering point gloss.
Long term printing stability
Good Thixotrophy, free of soldering bead.
Meeting 40 strict test, it can satisfy any kinds of manufacturing operation.
Specification
| No. | 15-01A | 15-01B |
| --- | --- | --- |
| Alloy Composition | SN63/37PB | SN63/37PB |
| Flux content | 9.3% | 9.3% |
| Melting point | 183℃ | 183℃ |
| Halogen Content | 0.02 | 0.02 |
| Powder particle diameter | 20-45μm | 20-38μm |
| Viscosity Number | 170±10Pas | 170±10Pas |
| Application | 0402 High precision electronic | 02010.15mm Micro pitch |
Taipei Head Office

5. Lane 302, Hsin Shuh Rd., Hsin Chuang City, Taipei Hsien, Taiwan (R.O.C.)
TEL :

886-2-82013987-9

FAX : 886-2-82012388 / 82012368
E-mail : kupingco@ms38.hinet.net

E-mail :

solder@kuping.com.tw
URL : www.kuping.com.tw
Taichung Liaison Office
No.70, Minyou Rd., Cingshuei Township, Taichung County 436, Taiwan (R.O.C.)
TEL : 886-4-2626-1089
FAX : 886-4-2627-1756