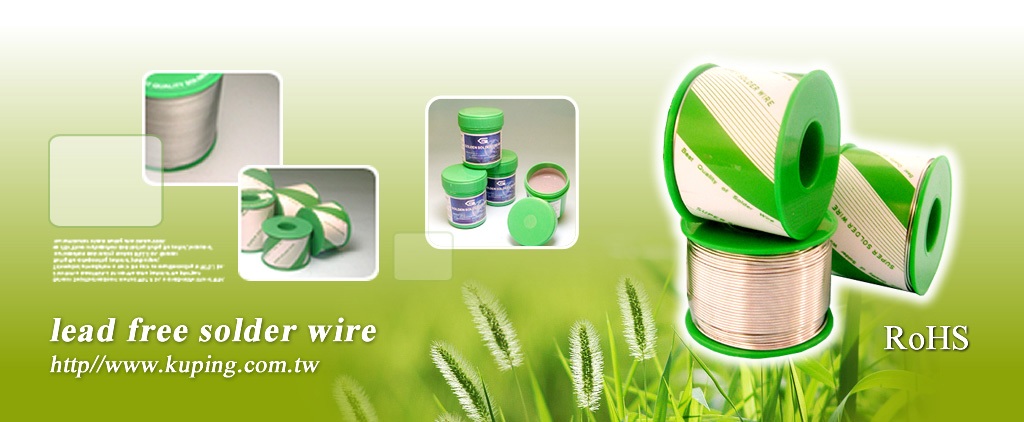 No./Clean SMT Solder Wire

In responding to a global call for environmen-tlism, KU PING has applied the most advanced technology to produce unwashable solder wire which allows fast cleaning while it is used for welding and repairing.
Features
Two-phase model allows easy welding and repairing.
No halogens, no splash, uncorrodible, and without odour.
Less residue, shinny and clean solder spot.
Classification
| ltem | Content of flux (Wt%) | Type | Content of Chlorine (Wt%) | Corrosion on Copper Plate | Aqueous solution resistant (Ω cm) | Insulation resistant (Ω) | Flux melting | Expansion (%) | Features |
| --- | --- | --- | --- | --- | --- | --- | --- | --- | --- |
| K-23 | 2%-2.5% | RMA | 0% | PASS | OVER 100K | 1x1012 OVER | 95℃ | 85% OVER | for Precision High Insulation |
| K-13 | 1.1%-1.4% | RMA | 0% | PASS | OVER 100K | 1x1012 OVER | 95℃ | 85% OVER | for Precision High Insulation |
Taipei Head Office

5. Lane 302, Hsin Shuh Rd., Hsin Chuang City, Taipei Hsien, Taiwan (R.O.C.)
TEL :

886-2-82013987-9

FAX : 886-2-82012388 / 82012368
E-mail : kupingco@ms38.hinet.net

E-mail :

solder@kuping.com.tw
URL : www.kuping.com.tw
Taichung Liaison Office
No.70, Minyou Rd., Cingshuei Township, Taichung County 436, Taiwan (R.O.C.)
TEL : 886-4-2626-1089
FAX : 886-4-2627-1756